Welcome to the TOROZ live blog of the media launch of SWTOR for Australia and New Zealand. We'll be updating throughout the launch with both information and pics. You will need to refresh this page manually to get the updates sorry. Enjoy!
UPDATE: head over to Capsule Computers for some great pics of the event!
3.35pm: The event this evening is for people who've registered via EA's social media presences – so not an open public event. This will end the live blog, expect the video and further info later this evening. Thanks for reading!
3.30pm: Sorry for the delay, was pulled in to interview Gabe Amatangelo. Very open interview, all community questions have been answered. Not to be a tease but you'll need to wait until I get home to upload the video 😉 Can confirm definitely late April for the free transfers, delay is to ensure the tech is right and isn't aligned with a wider server transfer program at this stage.
3.02pm: Time for people to play the game.
3.00pm: GA back on stage – discusses 1.1 update, 1.2 'coming soon' and key new content given an overview. Ranked Warzones etc.
2.56pm: Couldn't be happier with where the game is at right now. Lots of awards, great server uptime (95%+). Looking toward community for what they want. Starts video showing first 30 days of SWTOR, interviews with (US) community members. More than 14 million characters created. 6 million PvP battles daily. David Bass and Stephen Reid make cameos.
2:55pm: GA back on stage – vids not a reflection of class balance ;). Context of the game given on timeline. Unique opportunity to craft SW pre-history. Class overview.
2:49pm: Hope trailer played
2:45pm: Game intro cinematic played (Empire)
2:41pm: Game intro cinematic played (Republic)
2:37pm: GA: servers – we'll open more as demand increases. Free transfer overview (no details different from announced)
2:37pm: Gabe takes the stage.
2:35pm: And we're underway.
2.27pm: lots of mingling, so while we're waiting for the official stuff to get underway, here's a shot of the SWTOR mural and the PCs with SWTOR installed for journalists new to the game to have a play with: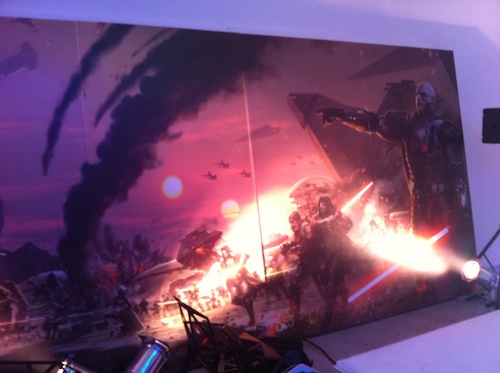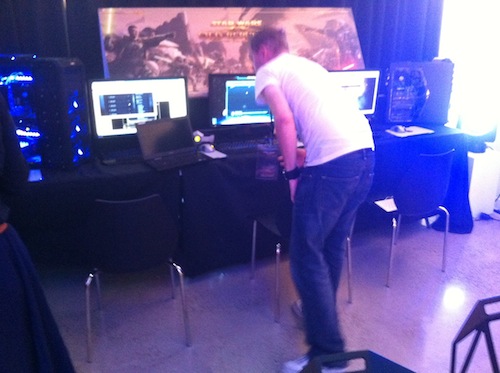 2.16pm: Slightly late start – but the atmosphere is building: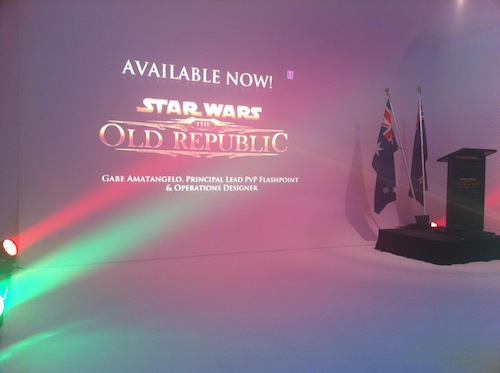 12.28pm: Still hunting for info. There's definitely something on this evening but not sure exactly what yet. Stay tuned. Sydneysiders – maybe keep your social diary free just in case 😉
10.48am: Rumours of a SWTOR community event tonight in Sydney? Will find out and post any info as soon as I have it.
8.23am: Welcome to the live blog, expect updates to start a little before 2pm AEDT / 11am AWST / 4pm NZDT
———-
Don't forget the official Asia-Pacific launch FAQ for all the nitty-grittys, and we'd love you to post your ping times if you get a chance.