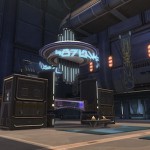 As you may have heard by now, the local servers for SWTOR come on board this evening, so expect lots of people rolling alts or their first character on the three servers available initially. For those meeting the free transfer criteria, you'll receive an email in the next few days telling you how to do that.
Which leads to the launch event tomorrow for media in Sydney. We'll be live blogging it from around 2pm AEDT so just keep an eye on the front page and watch the information flow in. Unfortunately the live blog will be a normal post updated minute to minute, so you will need to refresh the page to see the updates – sorry. If you're really keen you can also hang out in our Flash Point chat room – if the wireless reception at the event is up to scratch we'll join you there as well.
Otherwise, enjoy your last evening as an official red zoner – that's history as of late tonight.