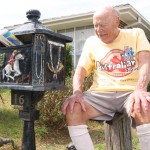 Just a quick note to say that we've had a number of oceanic players email / phone us to confirm they've received beta invites for Star Wars: The Old Republic. As you can imagine, they are pretty damn excited.
So, if you were cynical about oceanic players getting more widespread beta access, then maybe it's time for a Force-induced attitude adjustment!
UPDATE: Some great comments pointing out that invitees may have registered their SWTOR account under a US address – we've confirmed with one invitee that that was indeed the case.
[Picture courtesy of Walk Sydney Streets]