The hard-core folks at Oceanic guild Redemption have achieved a full clear of SWTOR hard modes. You can tell that after presumably quite a few attempts on Eternity Vault's SOA in hard mode, there was some relief at getting the job done: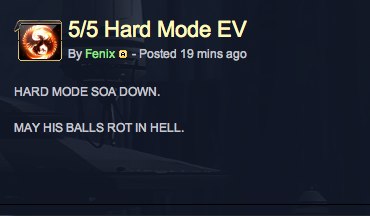 Here's the kill shot itself:
It's an impressive achievement, whether it's an oceanic first or not. It's also a short-lived achievement as in a little over 24 hours there's four more bosses in Karagga's Palace to down. And like any guild I'm sure that's just the way they like it!
Any other guilds that have nailed this, feel free to post your claims in comments!