I had Insurgent from Oceanic guild Remnants drop me a line with an interesting tidbit:
Remnants have now cleared all 5 bosses in Normal 8 man Eternity Vault. Just letting you know, we believe it may be an Oceanic first, but this is not confirmed.
Even if it's not an Oceanic guild first, it's still quite an achievement. You can see our previous spotlight on Remnants here.
We've asked for some pics of the run, so watch this space. Any other guilds out there who've achieved the same, post your claim in comments!
UPDATE: You can view the announcement from Remnants on their website.
Here's the key details:
The team plugged hard at it all night. With a wipe at 2012 HP left on Soa, lots might have decided to call it a night, but not this team. This team didn't, and at midnight (that's 12:00AM GMT +11, for those wanting to play the "what time is it there" game) Soa was finally killed.

The team: Narboon, Korbainethor, Krelliath, Skandus, Chair, Hannarr, Hairspray, Elgordomenico.

A special mention goes to Xaem for sitting out to allow for the progression.
Here's a pic from the final kill of Soa – The Infernal One (click on image for the full size):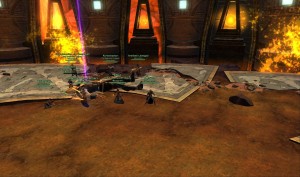 Over to you: are you surprised how quick some of these things are being achieved?