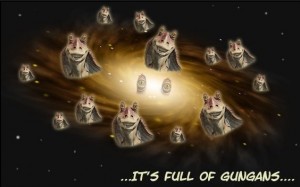 Nothing in the Star Wars Universe draws more derision than Jar Jar Binks and his brethren, the Gungans.
SWTOR thankfully doesn't feature the race, but it's part of a comic called 'The Dangers of a Star Wars MMO' and you and check it out right here.
For what it's worth, I think they've captured the nature of George Lucas perfectly!