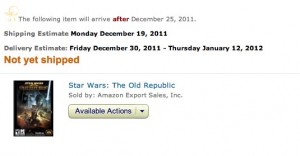 Over the past 48 hours, since this update by Amazon, there's been some excitement that box copies of SWTOR will be in our hot little hands a little earlier. The updates to order status on Amazon have flowed through and it seems the news is very good if you live in the US, with a much lesser glimmer of hope for those of us at this end of the world.
I pre-ordered on the 21st July and my estimated shipping date was the 21st December with a delivery date estimate of up to the 13th January. Now, my ship date is the 19th, with a worst-case delivery date of the 12th January. So at worst I've gained a day and possibly a little more. It's not going to be a huge consolation to people wanting continuous access from the current early access period, but it's an improvement at least if you've ordered via Amazon.
If you're having a copy shipped to an address in the US, then the delivery date I was quoted is the 16th December so you'll have no issue with access if someone's going to email you the code etc.
Over to you: does this help you at all or is it too little too late?