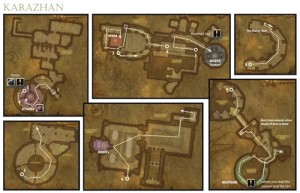 Welcome to ZAGGARAT ( Jetsai's Zone-by-Zone Achievement Guide for Getting Across the Realm with Alliance Toons), a comprehensive zone by zone guide to wrapping up every achievement you need. You can view all instalments by clicking here. The printer and screen friendly guides can be downloaded at the bottom of this post.
Catching the Bogpaddle Bullet from Sharon Boomgetter in Burning Steppes will land you smack in the Swamp of Sorrows – the zone where Goblins go Keanu surf-style and the Alliance v Horde clash over Stonard has been raging relentlessly for at least 2 years now.
The Swamp is home to a huge variety of the very sought-after flying and aquatic pets so prepare for battle and snatch yourself some Level 15 rares.  It also marks the beginning of the next level of fish for The Oceanographer and The Limnologist. Sunken Temple isn't the maze it used to be and I highly recommend doing this when the quest chain takes you there. It's a quick, fun zone that Loremasters should be able to knock over in an hour or two.
Blasted Lands, however, is without doubt the worst questing zone in any MMO …ever.
The mobs are spread far enough apart to make aoe impossible, the story is plain lame given how much lore there is to work with this side of the Dark Portal and I don't know about Horde but Alliance spend the entire zone running one errand at a time for a myriad of NPCs at the end of overly-circuitous caves, caverns, towers and keeps.
If I wasn't so annoyed at being a substitute telephone for Quartermaster Lungertz in the Keep and Watcher Mahar Ba at the top of the Mage Tower, I would have nominated Blizzard as the World Record holder for Longest Possible Path Required to Travel the Shortest Distance. As it stands, I just stabbed myself in the eye with a rusty screwdriver instead.
By contrast, Deadwind Pass – the home of Karazhan – is in my opinion the best raid instance I've ever experienced in a game.
It has everything – a great backdrop with a compelling story and some of the most interesting raid encounters you'll experience. I'd go so far as to say the raid mechanics introduced in Karazhan laid the foundation for everything that was to come after and established WoW's reputation as the gurus of raid content they are known for today.
If you're going for Rep achievements, getting exalted with the Violet Hold will take 2-3 weeks if you do all the quests and full clears of Karazhan. Alternatively, you can fast track a rep grind by clearing to Opera, leaving bosses alive, and resetting.
Violet Hold's two quest chains require you to run most of the Outland Heroics, as do many other quests out there, so efficiency nuts may want to save these until you've fully completed questing in all Outland zones.
Deadwind Pass is also home to two zone-exclusive pets, the Restless Shadeling (only found between 12 midnight and 9 am) and the Arcane Eye, as well as Eastern Kingdoms' Grand Master Pet Tamer.
Download the screen-friendly version here
Download the printer-friendly version here
(Editor's note: I just wanted to say what an amazing feat Jemima has pulled off with these Zaggarat guides – if you find them as incredibly useful as I have already, please use the donate link below – proceeds will be forwarded onto Jem for her work)