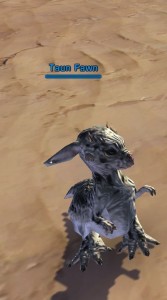 It's time to announce the winners of the ten Tauntaun Fawn codes.
We asked everyone to tell us what they'd name their Fawn if they won, and there's some superb answers. Read the website ones here or the Facebook ones here.
The winners were selected using a random number generator, after weeding out those that posted both a comment and on Facebook, with the following results:
5 winners who liked our Facebook Page
1. Abraham Barry: "I'd name my tauntaun "fodder", in memory of the many tauntauns that died outside EV to pass the time :'( "
2. Matt Noble: "I would call him Killer! It makes me laugh"
3. Thomas Midena: "I would name my Tauntaun 'Yawn-taun', 'cos he's so powerful that nothing in The Old Republic interests him much."
4. Theresa Kassler: "I would name mine Khaleesi because she would be a little queen in her own because she is so cute! Plus thats my legacy on the game!"
5. Shava Nerad: "I'd name my tauntaun "cozy" since they're warm inside…;)"
Winners who posted a comment
1. Fearlesskitty: "I would name it Tawny! cause its a Tauntaun Fawn and whats better than combining the names? xD"
2. Chem_toy00: "Willie Wompa, Because he is from the taun-taun factory. (seeing how there are 10 of em.)"
3. tele2musica: "I would name it the moaningduckling. It's constantly moans for no apparent reason and it looks like an ugly duckling. random shot!"
4. Illiaster: "I would name it Pavlova because it looks crunch yet soft in the inside and full of yummies. That and I'd probably eat it when starving in the Tattooine."
5. Annette Smith: "I'd call mine Anchovies, since I have characters named Pizza, Cheese and Danger with the Legacy name Supreme."
We'll be contacting each person individually to provide their codes, which are redeemed under your account details at SWTOR.com. Thanks to everyone who posted a comment or liked our Facebook Page. Also thanks to David Bass at BioWare for providing the codes!