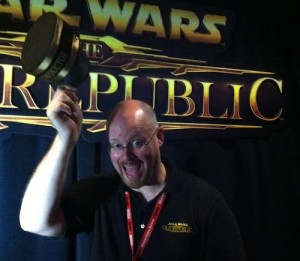 We're very pleased to announce that we'll be recording an interview with BioWare's Senior Community Manager, Stephen Reid, on Episode 26 of our Flash Point podcast. We'll be recording on the 11th February, but in the lead up we'd love YOUR questions for Stephen Reid on anything SWTOR-related.
How to have your question asked
BioWare haven't placed any rules on what can be asked, but I do know they won't be able to talk about the Oceanic launch as details aren't finalised as yet. Aside from that, the sky's the limit. So here's what to do to be on with a chance to get your question asked:
1. Ask something that a lot of your fellow players may be interested in.
2. Ask something that hasn't been answered 33 times before.
3. Ask it constructively – if you've got a gripe that you think a lot of people have, then put it forward but do it nicely. We of course reserve the right to not ask anything that's obvious trolling, contains inappropriate language or defamatory comments.
4. Post your question in comments on this post only, INCLUDING the name you'd like attributed to you when we ask the question of Stephen. A rough location (state, territory or Island in Oz / NZ would be fine if you don't want to get more specific). And yes we will ask questions from outside the Oceanic area if they're good ones.
5. We ideally need your questions by midnight Monday 6th February AEDT / 9PM AWST / 2am Tuesday the 7th NZDT, as we'll be shooting of some of the more in-depth questions to BioWare so they can ask the devs to clarify anything needed prior to the podcast.
6. That's it!
Obviously we can't ask every question but we'll put forward as many as possible. We'll aggregate common questions to save time as well. The podcast will be up for listening by midday on the 11th February AEDT, around 90 minutes after the podcast is recorded. Later that day there'll also be a transcript available for dissection.
So get posting in comments!