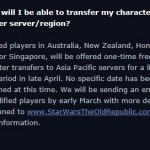 UPDATE: 18th April 2012 – The actual transfer date and conditions have been announced.
The FAQ for the Asia-Specific launch has now been updated, and it clarifies to some extent when the free server transfers will occur.  The quote in full is:
Qualified players in Australia, New Zealand, Hong Kong, or Singapore, will be offered one-time free character transfers to Asia Pacific servers for a limited time period in late April. No specific date has been confirmed at this time. We will be sending an email to all qualified players by early March with more details. Stay tuned to www.StarWarsTheOldRepublic.com for more information.
So for those hoping to transfer their primary toon in the next week or so, you have a bit of a wait yet. My guess is that the transfers may be part of a wider implementation of server transfers for the game as a whole. So I suppose you'll just need to start levelling up an alt – I know I am.