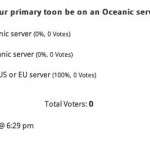 With the official local launch for SWTOR getting very close and the announcement of local servers, we thought it was time to start a new poll.
The question is: will you swap to the local server when it's available? It may seem a no-brainer but I'm guessing quite a few people actually won't shift given they may have lots of US friends as players or are part of a international guild.
So go to our front page and vote in the poll which is on the right hand side of the page a little way down. Also – make your thoughts below, particularly if you aren't going to be swapping – why aren't you?
If you'd like to see the results of previous polls, here's where you go.