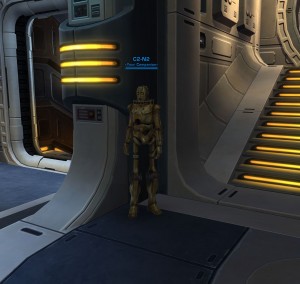 I'd argue that one of the biggest cult figures of SWTOR is the ever loving, cushion stuffing droid called C2-N2. Whether you love him or hate him, he's hard to ignore, and BioWare's Lead Combat Designer, Georg Zoeller, has joined the fun with this post:
Dear Sir,

I am writing to you in response to your complaint about our product, the C2-N2 droid. We regret that you are experiencing difficulties with this award winning, state of the art household droid.

Sadly, we have to inform you, that the C2-N2 droid, and its Imperial counterpart, the 2V-R8 autonomous ship maintenance unit, are not rated for combat at this time.

Several regrettable incidents, including the loss of a full squad of SIS operatives (apparently triggered by a malfunctioning speech unit voicing its congratulations to the undercover team during a deep cover infiltration mission), have lead the Republic Technical Support Corps to revoke the combat certification from these units and forced us to replace the 'advanced weapon and martial training ROM' from the programming of the unit.

These facts have been clearly disclosed to customers at time of sale, as well as in the programmatic introductory conversation program voiced upon owner transfer.

For this reason, we cannot take responsibility for your problems.

We are however pleased to announce that future updates to the unit's artificial intelligence core will dramatically increase the efficiency of it's emergency medical protocol features – and add some other, more questionable features.

The C2 Droid Corporation is also pleased to announce that we have started investigations into a new line of droid casings and cores, aimed at improving the efficiency of the unit's assembly and construction features. No official release date for this line of top end equipment has been determined at this point.

We thank you for your interest in our product.

The Management

C2-N2 – The only thing that crits is his voice in your earchannel!
Questionable features eh? I'm intrigued, how about you? Feel free to suggest a new feature for C2-N2 in comments. Have a read through the full thread on the SWTOR forums as there's a bucket of laughs in there.