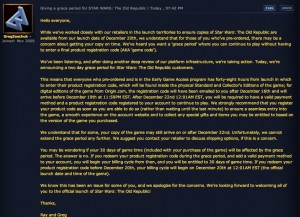 Overnight, Bioware's founders Ray Muzyka and Greg Zeschuk have jointly announced that there'll now be a 48-hour grace period for anyone who has pre-ordered SWTOR.
What does that mean for you? Once the 20th December rolls around, you'll now have 48 hours to enter the code from your physical copy of SWTOR (or your digital copy if you've somehow organised one).
So on top of yesterday's announcement that Amazon orders will ship a little earlier, Oceanic players who pre-ordered via Amazon can expect the product a number of days earlier than previously expected. The post also emphasises there is no option to extend the grace period beyond the 48 hours.
It's an encouraging sign that Bioware have reacted relatively quickly to community feedback – a key part of success in any MMO.
WHat do you think?