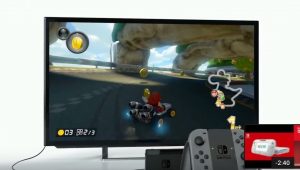 So today saw Nintendo flesh out the previously released information about the Nintendo Switch console which is launching on the 3rd March. 2016 was a huge year for games if not consoles, but 2017 is shaping up pretty huge in that regard as well.
Some initial impressions:
1. The controller, whether in the 'normal' play mode or when pulled into its component parts, seems too small / flimsy to me. I like the dedicated screen capture button (with video capture apparently coming down the track) and the HD Rumble system appears to be a big improvement on the Wii and Wii U functionality as far as vibrations.
2. The 1-2 Switch game looks fun, think Wii Party on steroids. It launches on March 3rd as well.
3. The Arms game looks even better – I can see this one being a huge hit. I can also see each player's wrists getting a very heavy workout. Solo and versus player options out of the box with online battles coming – no set release date except 'Spring'
4. Splatoon 2: I would have been surprised if this franchise hadn't made it onto the Switch and it is indeed there with a new game with extra weapons and new battle zones. Not launching until 'Summer'
5. Super Mario Odyssey: sandbox world – looks huge and is cited as the first big successor to Mario 64. Coming 2017 'Holiday season' so at end of year.
6. Xenoblade Chronicles 2: looks impressive, not a lot of detail though, no launch date.
7. Other games shown briefly or announced: Dragon Quest 10 and 11 (Japan only), Dragon Quest Heroes, Project Octopath Traveller, Skyrim, EA Sports Fifa,
Overall, Nintendo have shown they have a substantive platform in the Switch. Like a number of their previous console launches, there remains a concern over launch titles. As fun as Arms and 1-2 Switch look, I'm also wanting a big title to play with. Zelda is confirmed as a launch title but unfortunately it looks like we will have to wait a while for the other big games. I'm honestly dumbfounded that Mario Kart didn't get a mention at all aside from Mario Kart 8 being shown in the initial introduction.
The live stream hasn't changed much for me: I'm keen to use it, but I'm worried about what games I will be able to use it with. Maybe I need to become a bigger Zelda fan.
2016 was a huge year for games if not consoles, but 2017 is shaping up pretty huge in that regard as well – I just hope the Switch ends up being a big part of that.
For ongoing Switch coverage, check out Polygon, IGN and CNET to name three
To finish off, here's some assorted pictures from the live stream: