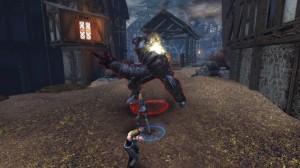 I came to Neverwinter with no preconceptions, or indeed any idea, as to what the game would be like. All I knew about the forgotten realms came from reading a handful of books more than a decade ago. So what drew me into this game?
Initially it was definitely the fact that it is free to play. Entirely free to play. You do not have to spend a cent of your hard earned money to play this game. In games like SWTOR, players have to shell out Cartel Coins to run Flashpoints and the like, or they can pay a subscription. So far in Neverwinter I am level 29 and I have run multiple dungeons, skirmishes and foundry missions all for the low, low price of $0.
Buying Zen will certainly help you in this game – it will make profession levelling much, much easier and convenient and there are debates on the official forums and within the community about the effect it will have on end game PvP as the game ages. Neverwinter offers us the advantage of being able to buy Zen with in-game currency (astral diamonds), while at this stage the pricing is inflated it will (hopefully) begin to even out and settle into a manageable conversion rate as the game progresses. Though I have not seen specific proof of this I believe Zen is also hard capped on how much can be charged for it in regards to in-game currency.
So if F2P is what drew me into the game, what is it that is keeping me here? I can sum it up in one word: Foundry. The Foundry is an amazing resource, by which players can create their own content. This ranges from simple kill 'X things' quests to elaborately designed multi-stage group questing.
When I first started playing I was enjoying the game, though I didn't feel that it would hold me for very long. The main quest line is rather linear and I couldn't see where the replay value was and then I found it in the Foundry. The first quest I did was I am Slayer and I was hooked. I still primarily play the main quests but when I get a little tired of them I switch to the foundry for an added level of enjoyment.
If like me you have ever thought about looking in to what it takes to design a game, you will love the Foundry. It enables players to create intricate and rewarding content and publish it themselves. I have spent a little bit of time learning its systems and I have to say it is not overly complicated. It may take the novice (such as myself) time to come to terms with the initial learning curve but once you have the foundations it is really quite simple to use.
There are plenty of gameplay reviews of the game so I won't go into that here. I will conclude with a recommendation for everyone to have a look at the game, I am confident that like me you will be pleasantly surprised.