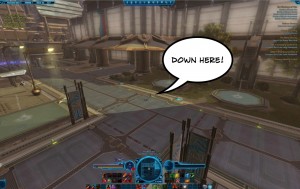 Have you ever wanted to be able to zoom out further in SWTOR. Well here's a little tip on how to do just that, via Reddit:
Follow the video to show you how to zoom out up to 200% in Star Wars: The Old Republic.

http://www.youtube.com/watch?v=Pr4LzXJEfSw

TL;DR – C:\Users\YourProfileName\AppData\Local\SWTOR\swtor\settings

Then find the file named: LoginName_Account.ini and open it.

For example, if your login name is DarkSithx then the file will be DarthSithx_Account.ini.

After opening the file look for the line that says: Controls_CameraMaxDistance = 25.0

Change that 25.0 to something else like 50.0. Don't take the .0 off at the end.
Of course it goes without saying that fiddling with settings like these are a risk and certainly aren't encouraged by BioWare. I haven't tried it myself but this post's pic (get the full-size version by clicking on it) shows it can work.
[Thanks to Deadlee Laundry over at the SWTOR Gamers of Oceania Facebook Page for the heads-up. Pic is via here]