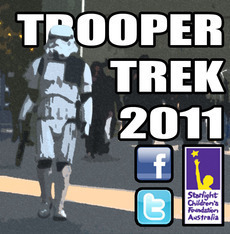 I wish I'd heard about this great story before, but it's still more than worth telling.
Jacob French, a member of the worldwide 501st Legion (the Aussie contingent are called the Redback Garrison), is walking from Perth to Sydney to raise funds for the Starlight Children's Foundation. The difference is that Jacob is doing it all in a modified Stormtrooper outfit.
Jacob is looking to raise 100 thousand dollars and he's well on the way to achieving it. He's made it all the way from Perth and is currently travelling up the South Coast of NSW.
Have a read of his story and maybe help him achieve his target – I can't think of a better Star Wars-related reason to spend some money.