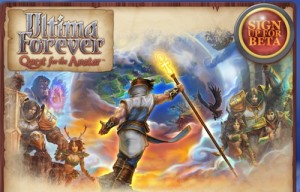 There are always heaps of new game announcements to coincide with the San Diego Comic Con. One that caught my eye was the announcement by EA/BioWare of a PC / iPad release of Ultima Forever: Quest for the Avatar.
There's no firm release date as yet ("later this year") but it certainly is an intriguing F2P option.
The full press release from EA:
EA AND BIOWARE RETURN TO THE LEGENDARY WORLD OF BRITANNIA IN NEW FREE-TO-PLAY RPG ULTIMA FOREVER: QUEST FOR THE AVATAR

Rediscover One of Gaming's Most Beloved Franchises with Friends, Anytime, Anywhere on iPad and PC Later this Year

SYDNEY, Australia – July 13, 2012 – BioWare™, a division of Electronic Arts Inc. (NASDAQ: EA), today announced Ultima™ Forever: Quest for the Avatar. Expanding the legendary Ultima™ franchise, Ultima Forever: Quest for the Avatar combines accessible action RPG gameplay with trademark BioWare storytelling, immersing both longtime fans and new gamers into the deep and engaging world of Britannia. Ultima Forever: Quest for the Avatar will be available on both the iPad and PC later this year, with fully integrated, cross-platform play so gamers can experience all of the rich and deep RPG elements with friends, wherever and whenever they choose to play.

To sign up for a chance to participate in a future closed beta and to see the game's first gameplay trailer, please visit the official web site at www.ultimaforever.com. Fans attending Comic-Con International 2012 in San Diego this weekend can stop by the EA booth (#5405) to learn more about Ultima Forever: Quest for the Avatar, while also getting a chance to play some of EA's latest free-to-play games, including Battlefield Heroes™, Command & Conquer™ Tiberium Alliances, Need for Speed™ World and Warhammer® Online: Wrath of Heroes™.

"There's a fundamental shift underway in how gamers play and pay for games, and Electronic Arts is a leader in providing new business models and new ways to consume content," said Dr. Ray Muzyka, General Manager of EA's BioWare Label and Co-Founder of BioWare. "With Ultima Forever: Quest for the Avatar, we're excited to give gamers the opportunity to play a high quality game with their friends anytime, anywhere, on both iPad and PC."

"As huge fans of the Ultima franchise, the team at BioWare Mythic is not only excited to be able to bring this reimagining of the original rich world to the fans of the classic RPGs, but also to introduce a new generation of gamers who have never had a chance to discover why this is one of our industry's most beloved worlds," said Eugene Evans, Studio GM at BioWare Mythic.

Spanning over three decades, the fantasy world of Ultima has entertained millions of players from around the world with dozens of award-winning titles. The passionate and loyal fans of Ultima have braved perilous dungeons, faced off against fearsome enemies and creatures, conquered expansive lands and seas, and saved worlds. It's time to revisit this enchanting universe and step into the shoes of your very own Avatar to find out where your choices will take you.

For more information on Ultima Forever: Quest for the Avatar, please follow the game on Twitter at http://twitter.com/UltimaForever or "Like" the game on Facebook athttp://www.facebook.com/UltimaForever.
What's your thoughts – are you likely to give this a whirl?