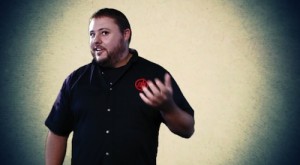 Funcom have just announced that The Secret World's Game Director, Joel Bylos, has been promoted to head a centralised live team covering The Secret World, Age of Conan and Anarchy Online. Here's his letter to the community outlining that, but even more importantly, the TSW content update plans up to issue #12:
Hi all,
As you may have heard, I recently agreed to take on the mantle of Creative Director for Funcom's live titles: The Secret World, Age of Conan and Anarchy Online. It's a huge honor to step into this role on multiple projects and have the ability to drive forward the creative direction of three of the most unique titles in the MMORPG space.

It doesn't change my role on The Secret World – the shared new team means that updates for The Secret World will continue like before – and we have plenty of exciting things coming up!

Today I want to take a little bit of time to talk about the content roadmap for the game in 2013. Normally I would have done this in January, but I preferred my previous letter to focus on the restructuring and the upcoming Issue #6.

So what does 2013 hold for The Secret World?

Let's take a look at some of our current content plans, but keep in mind that things might change. MMO development is a constantly evolving, dynamic process, and we need to make sure we don't lock ourselves down too tight. The further out the plans are, the more they are likely to change, but as of now, this is a rough outline of what we want to do going forward.

We started out last week with a few small additions for the romantic among you. Head to London and try out the new compatibility tester to find your perfect match within The Secret World, and send that special someone a card, flowers or any spare body parts you have lying around.

Coming up very soon is Issue #6: The Last Train to Cairo. We are working towards releasing this in early March, with our members and life-time members being allowed in two days earlier.

Issue #6 contains a new multi-layered storyline involving Said, Nassir and Abdel Daoud and leads you through the past and the present to steal a valuable artifact from a roman cult and thwart the atenists plan to turn Cairo into a second Tokyo. We are planning to reveal the issue cover and a lot more information about Issue #6 soon so stay tuned!

Issue #7 will see you returning to Transylvania when your Council of Venice contact, Carmen Preda, asks you to look into the appearance of a strange new monster in the region. In tracking down the creature, you will work with the Vampire Hunter, revisit old friends at the Romany Camp, and be introduced to a new character who will lead you deeper into the mysteries of the Carpathian Fangs and the Orochi presence there.

If I had to describe Issue #7 in one sentence it would probably be "James Bond vs Eldritch horrors". Of course, we will be adding another new Auxiliary weapon in Issue #7 and we'll talk more about the features of the Issue as it grows closer.

Issue #7 should end with a bang, a bang that starts a new in-game event that will run right up until we introduce the Tokyo zone.

In Issue #8, we will change things up a little, moving away from our story arc DLCs to introduce a new repeatable content feature. This feature will add value to everybody who plays the game, from relatively new players to veterans in the best gear. More details on the feature will be announced as we get closer to the date.

Issue #9 – 11 we plan to release our first new urban adventure zone, Tokyo. We are still deciding the exact breakdown of the Tokyo DLCs, but Tokyo is the continuation of the story mission and will contain a new lair, a new dungeon and a plethora of new action, sabotage and investigation missions.

Issue #12- ? Now we are getting into forbidden knowledge! This is another new adventure zone, directly tied to revelations in Tokyo and exploring the background of one of the more notorious factions in the game!

So that it is, our current plans for the PvE content roadmap for The Secret World for 2013. Note that it doesn't include new features – those are a part of a separate roadmap which also includes our plans for PvP. Soon we will be putting out a blog update on the PvP system and our plans for it, so keep your eyes peeled for that to hit soon! As mentioned earlier we will also reveal the cover for Issue #6 and more information on its content and features, hopefully early next week.

Thanks for listening, and I look forward to seeing you all in the game!
So – what do you think? That's a hell of an ambitious content plan for the coming year – do you agree?