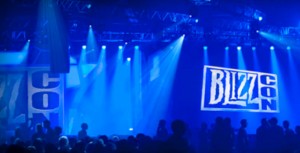 One day I may be able to afford to get to the US to attend Blizzcon in person, although flying all that way to be bombarded with info by one games vendor for a few days does seem a little silly.
Who am I kidding – I want to go!
For those lucky enough to be making the trip or planning some time off work to view remotely, here's the press release from Blizzard announcement some location and date details on the event:
BLIZZARD ENTERTAINMENT'S BLIZZCON® 2013
STORMS ANAHEIM NOVEMBER 8 & 9
IRVINE, Calif. – February 19, 2013 – Gather your guildmates, muster your minions, and summon your swarm! Blizzard Entertainment today announced plans for its seventh BlizzCon® gaming convention, taking place Friday, November 8 and Saturday, November 9 at the Anaheim Convention Center in Anaheim, California. For two epic days, members of Blizzard's gaming community from around the globe will descend onAnaheim to meet, play, and celebrate their shared passion for all things Warcraft®, StarCraft®, and Diablo®.

 

"BlizzCon gives us a chance to connect with our players and share our latest projects in a very personal way," said Mike Morhaime, CEO and cofounder of Blizzard Entertainment. "Members from all of our gaming communities have helped make this event bigger and better every time, and we look forward to meeting up and celebrating with them in November."

In addition to serving as a gathering place for Blizzard Entertainment gaming communities, BlizzCon will offer attendees a chance to enjoy:

Hands-on play time with the latest versions of Blizzard Entertainment games
Global finals for Blizzard eSports, featuring top pro gamers from around the world
In-depth discussion panels with Blizzard game developers and artists
Competitive and casual tournaments for players to showcase their talents
Community contests with great prizes
Commemorative merchandise based on Blizzard Entertainment's game universes
More activities and attractions to be announced

 

The previous BlizzCon was held in Anaheim in October 2011. Tickets to the event sold out in seconds, and highlights included the unveiling of the fourth World of Warcraft expansion, Mists of Pandaria®, and an epic closing concert featuring rock legends Foo Fighters.

Further details about BlizzCon 2013, including ticket availability and pricing, will be announced on the official BlizzCon website (www.blizzcon.com) as the event draws closer. Those interested in attending the show in person can make advance hotel reservations now and receive special BlizzCon rates by booking through the BlizzCon hotel website.

 

Blizzard Entertainment is currently hiring for numerous open positions. More information on available career opportunities can be found atwww.blizzard.com/jobs.
If you are going yourself, and would like a correspondent's role, drop us a line!