2012 was a pretty awesome year for comics. Well, every year is an awesome year for comics, but 2012 felt really special. And although our Comics section here at Oceanic Gamer has only been up for a month, we thought that we'd celebrate the year that was and give you our personal picks for our favourite titles, across a range of categories, from 2012. So without further ado, here are our picks for 2012

Favourite Single Issue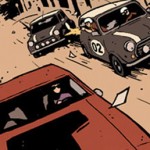 Sean: HAWKEYE #3 "Cherry" – Matt Fraction & David Aja
Hawkeye is something of a god-send in my eyes. It's funny, it's got action, it's got heart, and it has phenomenal art, and you know what they say about the third outing. Hawkeye #3 is the perfect representation of the series itself, and my pick for best single issue this year. Framed by Clint Barton's nine terrible ideas, it has the pace and charm of a great James Bond film, complete with a car chase and beautiful women. It's as close to perfect as a single issue can get, with a complete story that doesn't need any more explaining past the 24 pages it inhabits. This is the definitive Hawkeye.
Honourable Mentions: FF #2, Walking Dead #100, Justice League Dark #0, Wolverine & the X-Men #17
David: This isn't necessarily a negative, but I don't have a single favourite issue from this year. What I've read I've enjoyed on the whole, but nothing stood out strongly enough for me to make a call on this. Yes, I'm a fence-sitter!
Favourite New Series
Sean: SAGA – Brian K. Vaughan & Fiona Staples 
I admit to not really knowing Brian K. Vaughan before this year. I'd never read Y: The Last Man, and although I loved Lost, never remembered his name. However Saga has suceeded in making sure I will never forget him ever again. It's a space epic that wouldn't feel out of place if it were an HBO show- it follows the lives of baby Hazel and her parents Marko and Alana, people from both sides of the war whose love sparks an intergalactic manhunt. From the stellar cast, to Fiona Staples' perfect art, every part of this series, that dips it's toes into what appears to be every genre, is great. This is one to watch in the coming year.
Honourable Mentions: Hawkeye, FF, All New X-Men
David: HOAX HUNTERS – Michael Moreci, Steve Seeley and JM Ringuet
Image Comics' Hoax Hunters get's my gong as it's got a great combination of interesting characters and a nicely paced story. It's easy to be cynical about comics at times but this one is original enough to keep the cynic at bay so far. Who doesn't like a spooky guy in a spacesuit??
Honourable Mention: G.I. Combat
Favourite Ongoing Series
Sean: BATMAN – Scott Snyder & Greg Capullo
I know what you're thinking- how original. Scott Snyder's Batman probably has featured on a lot of "Best Of" lists this year, but there's a reason why- it is just that good. 2012 was especially awesome for the Dark Knight- from his wrap up of "Night of the Owls", to the new classic that is "The Death of the Family". Snyder shows no inkling that his run on Batman is losing momentum any time soon. Bruce Wayne's own abilities, and his faith in them, are constantly put to the test, as Snyder breaks him down, only to build him back up in time for the next villain to appear. It's humanizing Bruce, making him just as fallible as you or I, and coupled with Capullo's art, this book is a real winner.
Honourable Mentions: Rachel Rising, Wolverine and the X-Men, Daredevil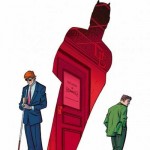 David: DAREDEVIL: Mark Waid & Chris Samnee
I'm a Marvel fan through and through, although a much more cynical one than I used to be. The current Daredevil run is one of the highest quality offerings on the market today and it takes the red-horned one back to golden runs like that during the 1980s with Frank Miller. If you have the dosh, buy the first 5 issues of this volume and you won't be disappointed. One disclaimer though: as a comic collector this is the one character I'm attempting to be a completist with, so I'm a little biased.
Honourable Mention: Winter City (an independent Australian release – my review here)
Favourite Miniseries/ Graphic Novel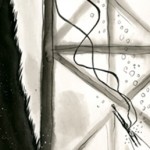 Sean:  THE UNDERWATER WELDER – Jeff Lemire
Jeff Lemire is the king of making me feel for his characters. His other solo work, Sweet Tooth, also manages to make me tear up every once and a while, but The Underwater Welder really takes the cake in the water-works department. The story of an underwater welder that tackles his marital and family problems in a Twilight Zone-esque tone. Its weird, but it has this strong emotional core of a man trying to piece together his past, only so he can move on with his future. Jack's story is truly original, and something you shouldn't miss this year. [Read Sean's full review here]
Honourable Mentions: Think Tank, Batman: Earth One, Punk Rock Jesus
David: HABIBI – Craig Thompson
This isn't a 2012 release but one I read during 2012 and I can safely say it's in the Top 5 of graphic novels I've ever read (with Thompson's other masterpiece Blankets in that Top 5 too probably). It's a huge tome and worth every cent you spend on it. Go find out more about it.
It's the type of graphic novel that totally destroys the idea of comics as a juvenile pursuit – as sad as it is that such a stereotype is still alive and kicking.
Favourite Story Arc
Sean: "THE COURT OF OWLS" – BATMAN – Scott Snyder & Greg Capulo
 "The Court of Owls" was something pretty special. It took Bruce Wayne and his firm belief he really truly understood Gotham City, and flip it on his head. The Court of Owls had been operating long before Batman was an idea, and for Bruce to repeatedly deny their existence, only for him to be completely and utterly wrong, gives him a layer of hubris that is something not really tackled before. It takes a strong creative team to make Bruce be blatantly wrong, and Snyder and Capulo nailed it. From a section that requires you to turn the book in your hands to read as Batman descends into madness, to bringing forth a new character that may shake his faith in his parents, "The Court of Owls" was an impressive debut for the New52 Batman, and is a fantastic herald for things to come.
Honourable Mentions: Hawkeye – "The Tape", Batman and Robin – "Born to Kill"
Favourite Overall Series
Sean: SAGA – Brian K. Vaughan & Fiona Staples
There were plenty of fantastic titles in 2012. I spent about half an hour breaking down about 20 separate titles into a final 5, and then it felt like choosing between children. But in the end, Brian K. Vaughan's Saga was the clear winner for my favourite title of the year. It's everything I love in comic books, and even storytelling in general. It' s a genre-bending science-fiction epic that can be hilarious on one panel, but then incredibly sad in the next, only to turn so sweet. Vaughan's masterful story-telling is only accentuated by Fiona Staples' artwork, that is fantastically expressive, and well detailed. Every single aspect of this series is so brilliantly done, and shows no signs of slowing down. Saga is a work that everyone should experience, and it is my favourite comic of 2012
David: I got nothin' here except to repeat what I said about Daredevil above. Sorry 😉
So that's it! The year of the best in comics, whittled down into an easy to read list.
What were your favourite comics this year? Sound off in the comments below!