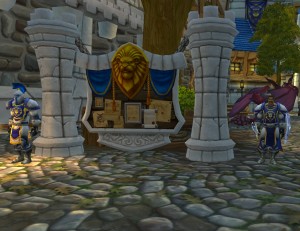 Just a few minutes ago, the latest World of Warcraft expansion, Mists of Pandaria, went live.  There was a slightly different approach this time, with no logout required to access the new content. Blizzard have wrangled the servers in a way that allows the transition to occur so that the new content 'appears', including the new quest to start the journey to Pandaria. (If you're after all the info on how to get going with the expansion, this is a good start)
So far it appears that things have gone smoothly although some servers are likely to be experiencing queues. Unlike Cataclysm, I'm not planning on starting my Pandaria questing quite yet. I'm actually going to attempt a 'server first'. The one I'm attempting matches my lack of ability in end-game: I'm going to try and be the first person on my server to level up my fishing to the cap. I have a quiet spot next to one of the lesser known fishing trainers, and for the first 2-3 hours of MoP I'll be doing nothing but casting a fishing line. Wish me luck!
More importantly though, how have YOU found the MoP experience so far in these early hours and days? Will you be rolling a Pandaren and/or a Monk early on? What's got you particularly excited about the new content?
Also don't forget our own WoW guru Luke has written a nice retrospective on Cataclysm and he'll be bringing plenty of his impressions of MoP over the coming weeks and months.