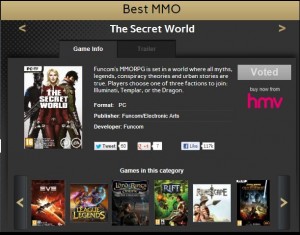 Voting for the 30th Annual Golden Joystick Awards is open, and amongst others, SWTOR and TSW have got nominations.
SWTOR has picked up nominations in the Best MMO and Ultimate Game of the Year awards, whilst TSW has picked up a Best MMO nomination.
Other nominees in the MMO category include EVE Online, League of Legends, LOTRO, Rift, Runescape, Tera and World of Tanks.
If you want to lodge a vote, here's where to go. I was torn with my vote in the Best MO category but ended up going with TSW. What about you?