Through the Mist is a regular column from Luke Le Page covering everything World of Warcraft. If you'd like something covered in a future column, drop us a line!
Last week I looked at the Pandaren starting area and I had hoped to preview some of the higher level content for you this week. Unfortunately the first zone we enter for Mists of Pandaria, the Jade Forest has only been reopened fairly recently after a major overhaul and I have not yet had the chance to replay it.
First I'd like to direct current subscribers to the following information regarding the recent Blizzard security breach. I encourage all current subscribers to follow the steps suggested by Blizzard in regards to account security. This breach also limited my game time last week as I could not for the life of me locate my authenticator for the hotfix so I apologise in advance for not being very content oriented this week.
The pre Mists of Pandaria patch (5.0.4) is also now available via background downloader and the pre expansion event will not be publicly tested.
There's also some interesting information regarding the use of Blizzard's recruit-a-friend system for levelling a Monk.  You can see here that Monks using this feature WILL be able to receive realm first achievements. Though using the Scroll of Resurrection feature to have an instant level 80 will not allow realm firsts.
Recently it was discovered that the experience required for levels 85+ was increased significantly in the Beta. There were also a number of changes to the pre-85 levels you can see the conversions below: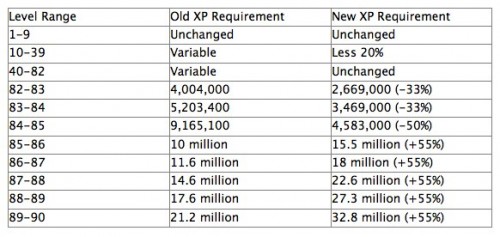 These increases seem fairly significant, however my own experience on the Beta has shown that the experience received for killing mobs as well as completing quests shows a significant increase in Mists of Pandaria, we also know that these are not finalised numbers (source).. Though it was some time ago, Level 85-86 took me less than 3 hours in an extremely crowded (and bugged) zone early in the beta. Unfortunately given the overhaul to the Jade Forest mentioned above, I cannot currently comment on this with great detail. A quest in the Valley of Four Winds for example gives 141,900 experience points, so the overall increase is relatively minor when put in perspective: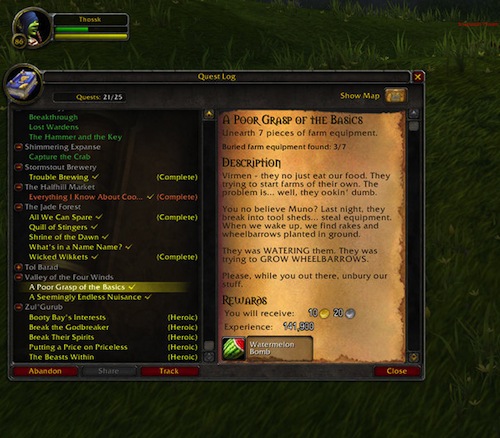 Next time I'll take a look at The Jade Forest once again, the small amount of play time I had this week showed it with a significant visual overhaul. I also intend to offer a preview of  the new Pet battle system.