In one of the biggest non-surprises of the year, BioWare have announced that SWTOR has gone free-to-play.
Even though in recent weeks there have been more layoffs, including departures of some of the big names involved in the development of the game, it hasn't stopped BioWare plastering their front page with the excited "The Old Republic Is Expanding!" as the lead for the F2P announcement. Cynicism aside, there's a bunch of related content announced with the change:
1. Players can still choose to pay a subscription, which gives them access to everything and also earns them 'Cartel Points'
2. The F2P option will go live in August, when you can buy the game for only $14.99 which includes 30 days of game time.
3. A range of new content is coming as well: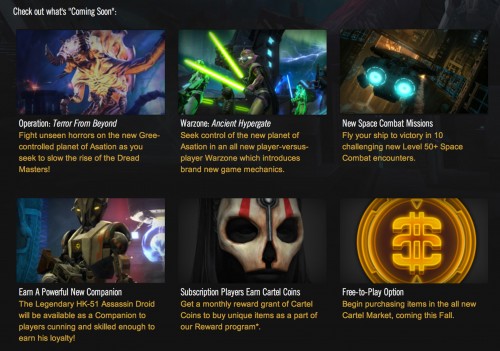 The full press release from BioWare/EA:
BioWare™, a Label of Electronic Arts (NASDAQ: EA), announced today that it will be expanding the story-driven, massively multiplayer online game Star Wars™: The Old Republic™ by adding a new Free-to-Play option this fall. This option will give players access to each of the eight iconic Star Wars character class storylines, all the way up to level 50, with certain restrictions*. Unlimited game access, including new higher-level game content and new features will be made available through individual purchases or through a subscription option.

"Players want flexibility and choice. The subscription-only model presented a major barrier for a lot of people who wanted to become part of The Old Republic™ universe," said Matthew Bromberg, GM of BioWare Austin.

Jeff Hickman, Executive Producer of Star Wars: The Old Republic added, "Since launch we have been adding new content and refining The Old Republic at a breakneck pace based on the feedback from our fans. We believe we are in a position to help improve the service even more, not only by continuing to add new content, but also by expanding the game to many more Star Wars fans, increasing the populations on worlds and the vibrancy of the community."

Starting this fall, there will be two different ways to play Star Wars: The Old Republic:

Subscription – A service designed for players who want unrestricted access to all the game features via ongoing subscription or by redeeming a Game Time Card. In addition to gaining access to all game content as our current subscribers do now, Subscribers will receive ongoing monthly grants of Cartel Coins*, the new virtual currency that will be introduced later this fall. Cartel Coins can be used to purchase valuable items including customizable gear and convenience features that will enhance the game play experience.
Free-to-Play –The first 50 levels will be free-to-play, with some restrictions on access to new content and advanced player features. Some restrictions can be "unlocked" with Cartel Coins.
As the first step towards adding the new Free-to-Play option this fall, in August at retail Star Wars: The Old Republic will go on sale for $14.99 USD, including one-month of free subscription.

Current and former players will also find additional benefits as part of this program. BioWare will be increasing the frequency of game content updates, with the first of many new releases coming in August. In addition, current subscribers will receive Cartel Coin grants and qualify for access to special in-game items. Even former players who re-activate now will qualify for special benefits. To learn more about these rewards, please visit www.StarWarstheOldRepublic.com/FREE.
We'll be covering this is more detail today as our team of writers dissect things. In the meantime, what's your take? A great move that will grow the game, a desperate measure to keep the game viable, or somewhere in the middle?