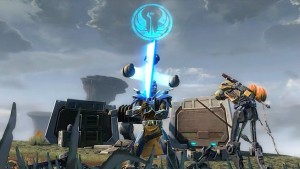 With E3 underway, BioWare have unveiled a nice video showing off a new space mission (Space Station Assault), new Operation (Terror from Beyond), new companion (HK-51 Assassin Droid), a new level cap (details unconfirmed), a new Warzone (Ancient Hypergates) and arguably most exciting of all, a whole new world to explore, Makeb.
Have a look at the video for yourself here.
Seeing all this content is encouraging, in that it puts some meat on the bones of BioWare's claims post-layoffs that there's heaps more content to come.
On the downside for me, there doesn't seem to be a great story emphasis on the new content. What I mean by that is that this update doesn't seem to fall within an overall story arc. It doesn't even have a name as such, probably because the previewed information isn't a bundle that'll be released as a single update. Even so, if there's a new level cap, there's obviously a new storyline, and I find it interesting that that's not the focus. It could be because of the criticisms around end-game content, but surely story should still be the driver?
Of course, there'll be lots more information drip-fed in coming months, and story may become central to that. In the meantime, it's good to see what's up ahead.
Over to you: of the new content revealed, what excites you or leaves you a bit cold?
All we know about this content is that it's coming in the 'next year'