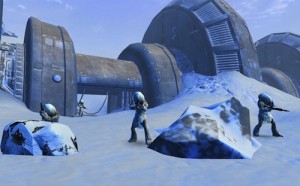 For most players, combat parsers (a summary of all the combat information to show performance of an individual in that combat) aren't probably a day-to-day aspect of SWTOR gameplay.
For some end-game players in particular though, they're a godsend and currently only available from third-party providers.
Allison Berryman from BioWare has clarified the issue today, reassuring those that use combat parsers that their not breaching SWTOR's terms of service:
We've asked our Terms of Service department, and we can confirm it is not part of our policy to ban players for using combat log parsers. If anyone feels like an action has been taken against their account in error, we strongly encourage you to contact support (http://www.swtor.com/support/form) with details. Please keep in mind that we do monitor for anything that violates the Terms of Service (speedhacking, botting, or any other third-party software that interacts with the client to result in unintended behavior). We also encourage people to be very careful about downloading and using any third-party software – remember to take the safety of your computer seriously!
So there you go – parse to your heart's content.
Over to you – do you use a combat parser now and if so, which one?