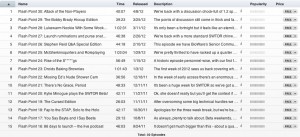 Having just finished Episode 30 of our Flash Point podcast, we're at a stage where we'd love to get the word out more on what is Australia's only generic SWTOR podcast (if we're wrong, please let us know as we'd love to tell people about other podcasts).
One way of doing that is for the iTunes Store to feature Flash Point. To do that, we'd need a bunch more reviews. Whether you love the podcast, hate it or somewhere in between, say so by posting a review.
Here's how:
1. Click on this link then click on the blue 'View in iTunes' button. OR – in iTunes just search for TOROZ and it comes up in search.
2. Scroll down past the podcast episode to the 'Customer Reviews' section and click on the 'Write a Review' link. You'll need to have an active iTunes account to post the review.
3. That's it!
Again, we'd really love your review whether it's good, bad or indifferent. Whether it's the Australian, New Zealand, USA or Canadian iTunes stores, it all helps.