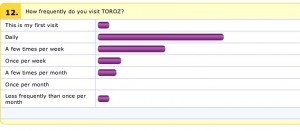 As we discussed last week, we're really keen to get your input on what we do here at TOROZ, so if you have a couple of minutes we'd be extremely grateful if you could fill out our survey.
You can elect to go into the draw to win a TOROZ t-shirt of your choice as well, so it's a potential win-win situation!
I'd also like to thank all those that have filled in the survey so far – we've already made a couple of improvements to the site based on some of the feedback, and I'm sure we'll be making plenty more. Finally – we will publish the results of the key survey areas once we've wrapped it all up.
So jump into the survey below or you can also use this direct link if need be.