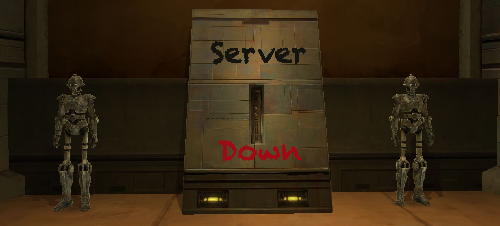 One thing I hadn't realised about BioWare, is that they're all tragic romantics. That's why they've thoughtfully made this week's regular maintenance on Valentine's Day. That way, you can spend some time with the woman / man of your dreams – or at least write a secret admirer note to your favourite SWTOR companion.
Ok, enough silly talk around what's a normal scheduled maintenance. Here's the local times you'll not have game access:
AEDT: 7pm – 11pm Tuesday 14th Feb
AWST: 4pm – 8pm
NZDT: 9pm – 1am
Scheduled Maintenance

Date: Tuesday, February 14th, 2012

Time: 2AM CST (12AM PST/3AM EST/8AM GMT/9AM CET) until 6AM CST (4AM PST/7AM EST/12PM GMT/1PM CET)

All game servers and SWTOR.com will be offline during this period. This maintenance is expected to take no more than four hours.

Thank you for your patience as we maintain service for Star Wars™: The Old Republic™.