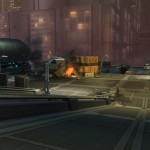 Some more downtime unfortunately tonight 7pm-9pm AEDT, 4pm-6pm AWST and 9pm-11pm NZDT:
Since the latest patch (1.1.1), we've been seeing reports about players dealing with hitching and freezing issues. As an effort to alleviate these issues for affected players, we will be performing maintenance tonight starting at 2AM CST, but we don't expect it to go beyond two hours. We apologize for any inconvenience, but we hope that this will resolve these issues for those players affected by them. This is a server-side only update and will not require a download.

Maintenance

Date: Thursday, February 2nd, 2012

Time: 2AM CST (12AM PST/3AM EST/8AM GMT/9AM CET) until 4AM CST (2AM PST/5AM EST/10AM GMT/11AMPM CET)

All game servers will be offline during this period. This maintenance is expected to take no more than two hours.

Thank you for your patience as we maintain service for Star Wars™: The Old Republic™.