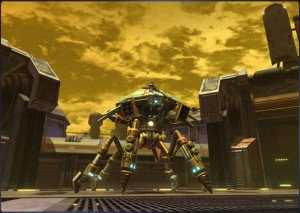 Talk about not resting on one's laurels. Bioware's James Ohlen has provided a sneak peek on some new content launching next month.
Not much is being given away about either but here's Ohlen's teaser:
Next month we're going to be releasing a new Flashpoint and an expanded Operation. The new Flashpoint involves a plague that could have significant repercussions across the galaxy. It takes place on a brand new world and involves some pretty epic battles. I can't go into much detail, but be prepared for something different. The expanded Operation takes the existing Karagga's palace scenario and more than triples it in size. It includes three new boss monsters and some pretty epic set pieces.
The last boss of the Karagga Operation is pictured in this post. I haven't checked out any of the current Operations yet, so talk about me needing to play catch-up!
On the SWTOR forums, there's already some debate over releasing new content versus fixing bugs in current content. Stephen Reid has responded on that as well:
And so begins the eternal MMO battle between 'more new stuff' and 'fix the bugs'.

The development team is large enough that essentially, we can do both. We have many people working on analysing, triaging, fixing, testing and deploying new fixes to ensure the game's stability – and we also have many other developers expanding the game and creating new content.
How about you – are you keen on new content already?