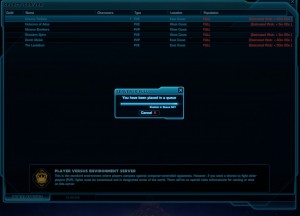 In case you hadn't heard, Bioware have announced that this weekend's beta test marks the end of the testing program for everyone.
So for those lucky enough to have had beta access, it'll be quite a wrench having zero access for a little over two weeks.
On the other side of the coin, it's an expected milestone in the progression to launch. It's also a damn good opportunity to go out, get lots of exercise and healthy food, buy the odd Christmas present if that's your thing, and generally enjoy all the aspects of your non-SWTOR life.
Because from the 15th December onwards….
Over to you: did the beta experience have any impact on your perceptions of SWTOR, positive or otherwise? How will you fill in the time until launch?