Now that the embargo on talking about the SWTOR beta has lifted, we'll start giving you some impressions of the game. Starting out is our own Mark Duncan, Flash Point co-host and arguably the TOROZ staffer with the longest time in-game.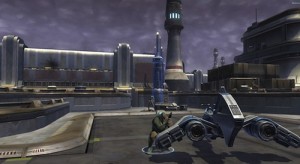 Having taken part in two betas now, I wanted to give you all my opinion of the game and perhaps give you a little insight in what to expect. The short answer is: it's all good!
In my opinion MMOs have become stagnant over the last few years. Since World of Warcraft, I have tried many MMOs from Star Trek, Rift and Aion to DC Universe and quite a few others. They all lacked something that WoW has, and the only way I can describe that something is one word: polish.
Star Wars: The Old Republic now enters the fray and trust me, if your looking for polish, this most definitely has it.
Every thing about the game speaks quality: a whole galaxy of work has gone into making sure we have an amazing experience while playing our characters and progressing through content.
Probably the most compelling aspect in my opinion is the story. I have tried most of the classes in the game to at least Level 10 and am simply blown away by the story of each class as it unfolds. It's like a good book that you cannot put down, I just want to keep playing to find out what my toon has in store next. It is clearly evident that the writers and the developers who implemented all this work are very passionate about the game.
Right and Wrong – those are decisions that will be a major factor for you when you play the game as both light and dark side. Decisions are common and can make a large change in how your story plays out. I won't include any spoilers here, however having played solely as a dark side player, some of the decisions I made were downright nasty – evil just flows out of my toon and I love it!
Every class has a role and in beta I am glad to say that I have seen all classes represented well and I cannot say I have seen any particularly weak class.
As a disclaimer, please understand that all of my opinions are based on the build I have been playing which is an older build and should not be compared with the finished game that we will all play in December. If this beta is anything to go by I know what I will be doing this Christmas, and it won't be eating Turkey!