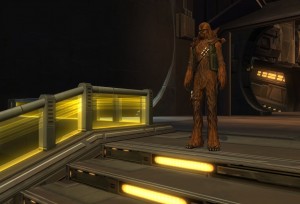 Time for some more views via Twitter from the troops on the ground fighting the beta war!
Based on a totally subjective, non-scientific analysis of a few hundred individuals tweeting, I'm happy to report that most enjoyed playing SWTOR and are looking forward to the launch. Who'd a thunk?
Most gripes came around installation issues and queues, although the queue issue seemed pretty tame on most servers given the size of the test. Then there were those who've burnt out on MMOs and don't see enough new in SWTOR to get too excited.
Onto the Twitter randomness:
archonsg: Has #swtor beta ended or will cut out in several hours? Hoping EA/Bioware will extend it one more day. :p
hulgarth: after playing all weekend I just pre-ordered #swtor the leveling alone with companions + story alone will be worth the 60 bones like #skyrim
SabrinaLianne: Really enjoyed flashpoints in #SWTOR – felt much more interesting to play through, more invested in outcome than other MMOs.
VexingVision: So the general consensus among the non-WoW-players seems to be that #SWTOR is a bit boring, despite the voice-acting. Ah well. 🙁
EvionFox: Okay, the beta has definitely sold me on #SWTOR. I was iffy about the graphics, but they use light so well, looks like a SW painting.
Lunatich: While #SWTOR did slightly scratch my MMO itch, it doesn't do anything new and I'm bored w/ hotkey MMO's. Will not buy it – sad as I love SW.
josmiller: #swtor Beta weekend was fantastic. Great combination of the familiar and the new all in an immersive realisation of the Star Wars I.P.
Crazycommander: #SWTOR weekend was great. Will I subscribe? Probably not, I think I'm fed up with that type of game.
chung105: And btw if #swtor is canon then Luke, Vader, Palpatine, Darth Maul, Darth Oldballs, and all the rest really sucked at the force.
andrealessi: Tatooine is where #SWTOR really comes in to its own, I think. It's a huge area with so much to do, and the Czerka quest line is great.
Trayionlh: You know you've been playing too much @dragonage when you notice protocol droids in #swtor going "thank the maker"
Shades_of_Mauve: #SWTOR ran pretty well, except for my miraculous disappearing pants. Who cares? When you're a jedi you can run around in your skivvies.
GirlyGamerSite: really liking #SWTOR Went from not interested in even playing the beta to most likely getting the game for release in a weekends time.
Bullet_beast: So after watching the chat in #SWTOR I've realized I don't think I've ever talked to big fans of star wars before, at least not knowingly.
Elastoman: Sooooo…. fewer drunk tweets tonight than last night. But I think I can say I Jedi'd the shit out of this weekend. #swtor
AgentStephens: Sitting here in a Jedi Bathrobe playing #SWToR 😀
sevquis: want 2 play more #swtor but that leads 2 unhappy wife, which leads 2 fear, fear leads 2 anger, anger leads 2 hate, hate leads 2 suffering.
Now it's your turn: how did you find the beta weekend?