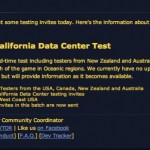 A small portion of joy was handed out to Oceanic SWTOR players overnight, with the announcement that game testing invites have gone out to selected Australian and New Zealand players.
More specifically, it's a time-limited test of the Californian data centre which will be the main point Oceanic players access the game. The direct info from Allison Berryman:
This test is a small, limited-time test including testers from New Zealand and Australia. Data from this test will be used to inform decisions about the launch of the game in Oceanic regions. We currently have no updates regarding the launch of the game in these or other territories, but will provide information as it becomes available.
So for those invited, enjoy! If you haven't got an invite then you won't at this stage as all invites for this specific test have been sent.
Here's a prediction though: testers will be at least happy and possibly pleased with the ping times i.e. they'll probably be incredibly similar to say World of Warcraft where ping times of under 300ms are the norm usually. If that ends up being the case then we have a very playable game (PvP'ers need not flame me with diatribes of how 300ms = death in PvP).