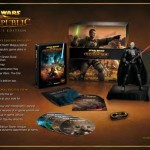 Big news. Bioware co-founders Dr. Ray Muzyka and Dr. Greg Zeschuk have just announced the release date for Star Wars: The Old Republic at the Eurogamer Expo.
December 20th 2011 is go-live for the US, with Europeans getting access 2 days later. As expected, it's a monthly subscription model:
1 Month Subscription: $14.99 (£8.99/€12.99)
3 Month Subscription: $13.99 per month (one-time charge of $41.97/£25.17/€35.97)
6 Month Subscription: $12.99 per month (one-time charge of $77.94/£46.14/€65.94)
We're recording a podcast right now, so stay tuned for much more discussion. In the meantime, over to you. Are you excited? Jump on our forums or check out the excitement on the official forums!