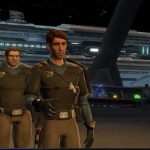 This week's update from Bioware is the release of a video from Comic-Con titled The Esseles Developer Walkthrough:
The Esseles, a Republic transport that carries some of the most high-profiled members of the Galactic Senate across the galaxy, has come under siege from the opportunistic Grand Moff Kilran. Dallas Dickinson guides you along as a group of Republic heroes must band together to repel the Imperial boarding parties and retake their ship in this Developer Walkthrough.     – Bioware
The walkthrough begins with Dallas Dickinson explaining the situation on The Esseles – it's the lowest level flashpoint being "around level nine" so you'll be entering this Flashpoint as you leave your starting planet. The Flashpoint starts when the group discovers the dead Captain laying on the floor  and a panicking first officer looking for a solution. The party is then contacted by Grand Moff Kilran hailing the ship to announce that his forces will be boarding to capture a Republic ambassador.
The party heads to the cargo bay to reinforce the ships crew and repel an invading force of droids and Mandalorian mercenaries. After the battle the ambassador shows herself announcing that the attack the party just repelled was a rouse. The real threat is a Mandalorian named Ironfist who along with his bodyguards have secured the bridge and taken the crew hostage.
The party fights its way to the engineering deck where it's faced with a lightside/darkside option for opening the bridge lockdown. The lightside is to destroy conduits that are spread across the engineering deck to override the lockdown status. The darkside option is to reset the system, opening the air locks, killing the engineers. The party chooses the darkside option and moves onto the bridge. Ironfist greets them as any villain should, then the fight begins.
Ironfist jet packs to the smuggler delivering a brutal uppercut. The smuggler breaks the engagement and heads for cover killing a bodyguard on his way. The trooper begins pulling the attenetion of Ironfist like any tank should, so the others can focus on killing the boss. Ironfist uses a blastback move where he vents his jet pack knocking the players to the ground, a pretty good CC move for a boss. The Trooper uses a cryonade and freezes Ironfist allowing the team to dispatch him with ease.
Be sure to check out the full video of  The Essles Developer Walkthrough here on Star Wars: The Old Republics official site.
What are your thoughts? Does this Flashpoint look fun to you?