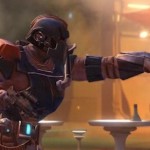 Bounty Hunters rejoice, your class update is here. The update includes a revamp of the Bounty Hunter page in the Holonet, a class video, details on the D5-Mantis, The Bounty Hunters ship, and a new race page on the Holonet covering the Rattataki.
The Holonet's update for the Bounty Hunter includes new screen shots and new tabs such as "Known Associates", "Specializations", and "Starship". Under the "Known Associates" tab you'll find  Mako an orphaned splicer that grew up on the tough streets of Nar Shaddaa. By age eight, she had learned all known programing languages and was running with some of Nar Shaddaa's more notorious splicer gangs. Seven years later, she was found wounded in an alley by an aging Bounty Hunter named Bradenn. He needed a tech specialist and she needed a way off Nar Shaddaa, Braden's crew would become Mako's first real family.
Under the "Specializations" tab there are two paths an aspiring Bounty Hunter can walk: Powertech or Mercenary. A Powertech is the Tank path for the Bounty Hunters utilizing heavy armor, advanced shielding, and the deadly flamethrower, They will be hard to take down for ranged or melee enemies. Concerning the Bounty Hunters damage dealing path, Mercenary, Bioware says:
If the best defense is a good offense, the Mercenary's got the most intimidating defense in the galaxy. Heavily-modded blasters and deadly heat seeking missiles make the Mercenary a mobile heavy weapons platform. There is no problem extra firepower can't solve, and no one who knows what he's doing getting between a Mercenary and his target.
Personally I think the Mercenary has the coolest update of armor to date. It's a sick combination between a WWI English soldier with a gas mask on and a space cowboy. As usual DarthHater, has a dissection of the class video that's worth a look.
Under the "Starship" tab is the D5-Mantis, a modified Kuat Drive Yards D5-Mantis Patrol Craft , the Bounty Hunter's ship, it holds a very close resemblance to the infamous Fett's ship it was no doubt based off of, Slave I. The D5-Mantis's page also has new screen shots and a new video to go along with the page.
"Born Killer, the pale skinned Rattataki are made for battle. Centuries of constant warfare have weeded out the weak, shaping the remainder into proud, passionate and deadly combatants," says the Holonet on the Rattataki race. The inhabitants part of the Holonet received an update today with the Rattataki which includes some new screen shots and a lengthy bio of this race's history on their home planet and their dealings with the evil Sith Empire.
Bioware also released some information about PAX on the official SWTOR forums:
Inside the main PAX East exhibition hall, visitors to Booth 912 will be among the first in the world to play the mid-game Republic Flashpoint, Taral V! Taking the role of a Trooper, Smuggler, Jedi Knight or Jedi Consular, you'll team up with other players in an extended hands-on gameplay experience. This is a challenging mission which even MMO veterans may find difficult, but we will prepare everyone who plays with a tactical briefing at the booth.
Conquered Taral V? Experienced every Origin World? There's still more. Throughout all three days of PAX East we'll be giving presentations of Star Wars: The Old Republic from our booth stage, including live Q&A sessions with Developers from the BioWare Austin team. Ask James Ohlen (Lead Designer) and Daniel Erickson (Lead Writer), as well as other team members, your burning questions.If you can't make the trip to Boston, never fear… we'll be keeping you up to date from the show floor via our Community Forums, our Twitter feed and via our official Facebook page
So for those of us who can't make it they confirmed they will keep us updated plus I'll be on the look out for videos and other news to post on TOROZ to keep you guys up to date.
May the Force be with you