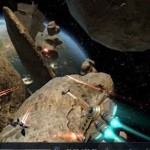 Bioware has released it's first PAX update with a new trailer, and also announced their "Pre-launch Guild Program." The new trailer titled The Fate of the Galaxy (shown below) was released today for the Friday update. The trailer begins with some Jawas standing next to several droids on Tatooine, The screen fade out and Hoth appears showing some Tauntauns and Troopers in the wicked looking snow armor, there's also a large four legged walker standing in the background in front of some shield generators like from Empire Strikes Back. The video then goes through a few more scenes before showing some combat and space combat featuring the D-5 Mantis. Unlike  Deceived and Hope this is not a cinematic trailer, it was made using in-game graphics and it does not disappoint.
If you're watching closely there seems to be some armor on one of the Sith players or possible NPCs that looks identical to a Scout Trooper from Return of the Jedi but black – it looks sick. The video also showed off a Rancor and a Sith Warrior smacking a Jawa which was pretty funny, but the trailer isn't that big of a release, so be expecting a better one soon. PAX is a big convention so no surprise that they didn't put out a release date or a larger beta announcement in the first one or two days, but I have a feeling Bioware will release something really good at this convention.
The "Pre-Launch Guild Program" is a tool for guilds in Star Wars: The Old Republic located under the new Guilds section on the Community tab on SWTOR's website. The Guild headquarters is used to create a guild before release and by filling out the information about your guild, like if it's PvP, role playing oriented, Republic or Sith. The Guild HQ can then predetermine the server you will be placed in when the game releases to best fit your guilds wants and needs. The guild update also allows each guild created and registered on SWTOR to have it's own mini website within the game's official site including a lot of really cool stuff such as a public forum that anyone can view, A private forum for guild members, a Poll that shows your guilds Classes, and a roster so you can keep up with all it's members. I really like this guild program Bioware has going – it should make things a lot smoother when the game launches.