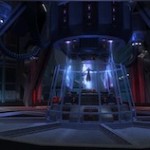 This week's article reviews Star Wars: The Old Republic's Friday update of last week on the new Flashpoints, story-driven instances that require a party to undertake the mission. They are much more difficult than your average solo quest, but will produce greater loot and rewards. Bioware released a new video for the Taral V Flashpoint along with a new Flashpoint page addition for the game systems area of it's website.
Taral V is a mid game Republic only Flashpoint where teams must recover a navigational computer on the planet. The navigational computer will allow the Republic to navigate the dangerous Maelstrom nebula where the Emperor's space station sized prison is holding a Jedi who is critical to the war effort.
The new game systems page also lists several other Flashpoints. The Esseles and The Black Talon are both early game Flashpoints, Esseles being Republic and Black Talon being Imperial. Republic players will be defending the Esseles from Imperials, as the Imperial players will be assualting the Black Talon to regain control from a rouge captain. They will both have important choices for the player character's story to be made at the conclusion. Mid game Flashpoints will be Taral V for the Republic and Boarding Party for the Empire. In Boarding Party the team of Imperial players must track down and capture an escaped high-level Republic prisoner and prevent a bold attack on the Empire. Directive 7 is an end game Flashpoint for both the Republic and Imperial factions. In this Flashpoint, insubordinate droids have created a technology that could bode destruction for both the Republic and the Empire. Both factions are sent to a remote moon to quell the droid rebellion before it is too late. All the info and details on the flaspoints can be found here on SWTOR's game systems page.
More rumored than news, The Old Republic will not be released in the spring of 2011, but in the fall. Specifically September, while Bioware is maintaing that it will be released in the spring. The gaming industry website MCV says "Devlopment sources" from SWTOR have told them it will be September before the game drops. A September release will put TOR into the social life ending period of fall 2011 which is already heavily stacked with games from the industries biggest players. Bioware will most likely denounce or confirm this rumor at Pax East in March. Fans may get the info sooner, when EA's Q3 FY 2011 shareholder meeting is held. This is where they will release their quarterly schedule of major titles.