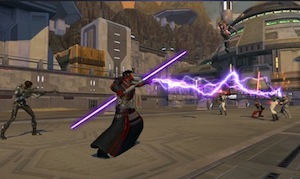 1. SWTOR's Principal Lead Systems Designer writes a piece on MMO design and (surprise) how happy he is with the playability factor of the game. He also has some interesting thoughts about the multiplayer conversations for solo content and the community aspects of crafting. And if you think it's easy writing as a developer, check the post's comments to see the level of analysis every discussion generates. That's a good thing of course.
2. PC World looks at the rumours of SWTOR coming to the XBox – personally I'd like to see them support Macs natively before developing for consoles, but I'm certainly not holding my breath in that regard.
3. Darth Hater had one of the more amusing April Fools jokes for the week.
4. Mos Eisley Radio keep churning out their special brand of podcast, with Episode 16 hitting the streets.
5. We're still looking for writers wanting to be (modestly) paid to write for us. We have a writer debut coming up this week but could still use a further person. All the details here.