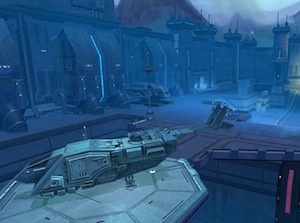 There's not a lot to be surprised about in the announcement from BioWare:
While we have not announced a specific date, we can confirm that we are targeting a spring 2011 release for Star Wars™: The Old Republic™. We've got a lot of exciting updates and reveals planned throughout 2010, including the first-ever hands-on testing for the game. It's not too late to sign up to be a game tester, so go to www.swtor.com/tester and sign up today. We can't wait to share more about the game with you as we progress through the year, so make sure you stay tuned to the official website for details.
For those of us not in the USA, 'Spring' starts there around the 21st April, so that's the earliest we're likely to see the full launch. There's always the chance of BioWare surprising people and launching early (pre-Xmas 2010 anyone?), but it still provides the greatest clarity to date.
You can follow the discussion on the announcement on the official SWTOR forums and we'll have more to say on the launch in coming days.
Over to you: is 'Spring' 2011 a reasonable timeframe – was it what you were expecting?